CNN
 — 

In 2013, a 14-year-old Alex Fitzpatrick caddied his older brother Matt to victory at the US Amateur Championship in Brookline, a win that secured the champion an exemption for the following year's US Open.
The rest is history: Matt Fizpatrick would return to the same site in 2022 to clinch the major, announcing his arrival as England's premier golfing talent.
Now, the world No. 8 has the chance to return a favor to his younger sibling.
On Thursday, the Fitzpatrick brothers will pair for the Zurich Classic of New Orleans, a PGA Tour event that will see 80 two-player teams battle it out at TPC Louisiana for a split of the $2,398,000 winner's purse.
The triumphant pair on Sunday will also receive a two-year exemption on the PGA Tour. Though not a motivation for the field's elite names like Fitzpatrick, for his 24-year-old younger brother – ranked 705th in the world and forging his path on the Challenge Tour – it could be life-changing.
"That would be incredible for him, there's no doubt about that," Fitzpatrick told CNN Sport's Don Riddell.
"We know what's at stake and we know what possibilities there are if he does well and, hopefully, we can do that."
A few months after Fitzpatrick's dramatic US Open triumph, he found himself pitted in the same field as his younger sibling at the Italian Open in Rome.
After the second round, the junior Fitzpatrick led the major champion in average driving distance by 0.36 yards – a slender gap, yes, but enough to warrant a jab via text. The reply – shared via Fitzpatrick's Instagram – showed a screenshot of the US Open winner's name atop the leaderboard, with his brother's tied-18th position included for good measure.
Yet beneath the cheap shots, it's all brotherly love, and the pair gel well on the course despite contrasting styles.
"Our games are pretty opposite," the elder Fitzpatrick said. "I'm a good driver, he's a good iron player. He's a good short game and I'm a good putter.
"He wants to do as well as he can, of course he does, but for me his path is probably going to be a little bit different than mine. The golf world is very different from when I started to when he's playing now so he's going to focus on the Challenge Tour probably, he's excited for that.
"Hopefully, he can follow in my footsteps."
Matt Fitzpatrick's perfect day? Tuna & Augusta
They will be some tough footsteps to follow.
Triumph at the RBC Heritage on Sunday, sealed with a dramatic playoff win over three-time major champion Jordan Spieth, penned the latest glorious chapter in what has been an outstanding few years for Fitzpatrick.
The fact that the victory came at Hilton Head, a long-time holiday destination for the family from Sheffield, made it even more special, as the 28-year-old realized a childhood dream of lifting silverware on the Harbour Town course.
"Moments like that, you wish time travel was real and you could go back and say, 'This is what's going happen in a few years,'" he said.
"I would have been amazed, it was always one that I wanted to win and it was very special to do it."
And as if winning couldn't have been any sweeter, it arrived in the face of overwhelmingly one-sided crowd support for home hero Spieth, with 'U-S-A' chants soundtracking much of the deciding playoff holes.
Spieth gestured to fans for quiet, but Fitzpatrick relished his leading role as a villain.
"It was great … I definitely enjoyed being in it," he said.
"I wouldn't say I've played in that atmosphere too often, but it's certainly nice to perform under that pressure and I think that's what made it mean so much as well."
Fitzpatrick is looking forward to a role reversal of crowd bias when Italy hosts the Ryder Cup for the first time in September.
Rome's Marco Simone Golf and Country Club will be the stage for what Team Europe hopes will be a decisive rebound after a bruising defeat at the hands of their American rivals at Whistling Straits in 2021.
Fitzpatrick, a member of that team and the similarly defeated 2016 roster, is yet to win a singles match at the biennial tournament but would touch down in Rome a far more accomplished player should he be selected.
"I'd really like to be one of the top players that week and play really well," he said.
"I'm just excited for that opportunity and I think that's what's really important is to first make the team, and then look forward to it, enjoy it, and go out there and try to win some points for Europe."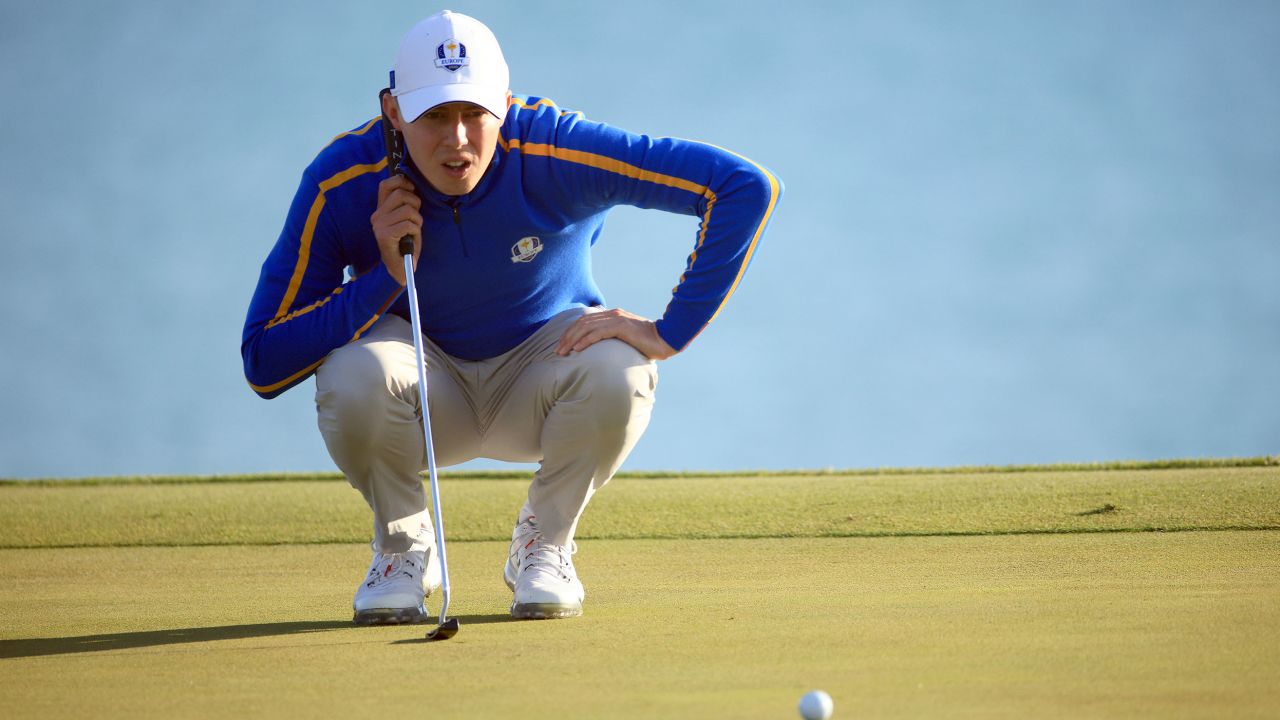 His other main aim for 2023 is to add another major to his trophy cabinet, no easy feat with the caliber of names chasing the same goal.
A tied-10th finish at The Masters signaled a strong start to the major season for the Englishman, who finished eight strokes adrift of dominant winner Jon Rahm.
The Spaniard's second major title consolidated his reputation alongside Scottie Scheffler and Rory McIlroy in the so-called 'big-three' atop the rankings. Yet Fitzpatrick – dubbed the hardest-working golfer on the PGA Tour – has no intention of accepting his place in the food chain.
"I don't wanna just sit back and be like, 'They're all too good for me and I'm just happy with where I am.' That's not me as a person," Fitzpatrick said.
"I'm constantly looking at ways to improve and get better, and that's what's really important is to keep pushing myself and try and catch them up."