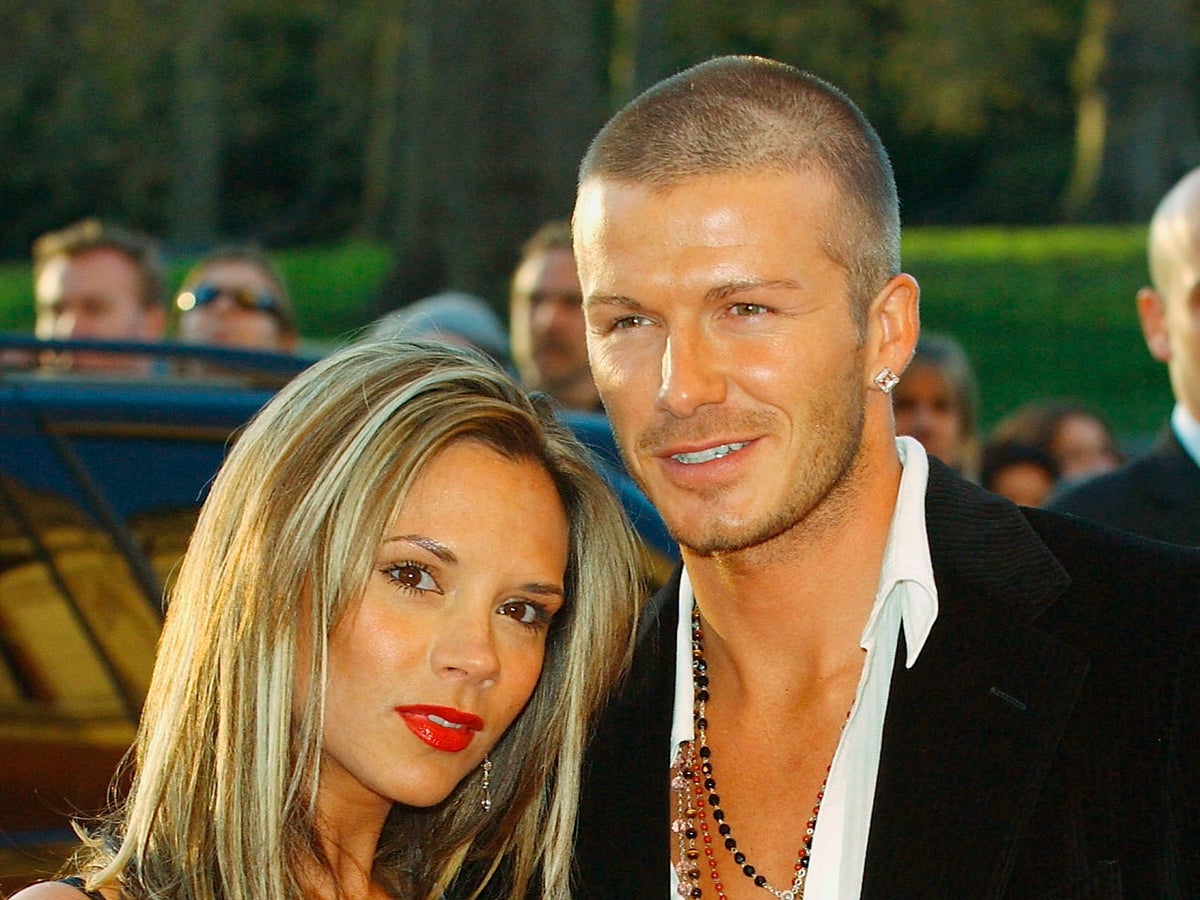 David and Victoria Beckham have finally addressed the rumours surrounding the football star's alleged affair with Rebecca Loos in 2004.
In a new four-part Netflix documentary, titled Beckham, the former Spice Girl and fashion designer opens up about her husband's alleged infidelity, said to have taken place while he was playing for Real Madrid.
The couple, who were married in 1999 and have four children together, have always vehemently denied the claims.
In emotional interviews for the fourth and final episode, "What Makes David Run", both Victoria and David open up about how the rumours – and the ensuing media frenzy – affected them and their family.
David and Victoria had been under intense scrutiny regarding the state of their marriage since he made the controversial move, worth £25m, to Real Madrid from Manchester United.
Victoria in particular was painted as being reluctant to move to Spain, with tabloid reports claiming she disliked the food and was fussy about which school their children attended.
However, things grew worse after Loos claimed in now-defunct newspaper the News of the World that she and David had a three-month affair. Her claims were never corroborated and were dismissed by David at the time as "ludicrous".
"It was the first time that me and Victoria had been put under that kind of pressure in our marriage," David says in the documentary, after a video montage that showed the hundreds of front page headlines about the allegations.
"I can't even begin to tell you how hard it was. And how it affected me," Victoria adds, in a separate interview about the scandal.
Asked by interviewer Fisher Stevens if it was the most difficult time in their marriage, she responds: "A hundred percent. It was the hardest period for us because it felt like the world was against us. And here's the thing, we were against each other, if I'm being completely honest.
"Up until Madrid, sometimes it felt like us against everybody else but we were together, we were connected, we had each other. But when we were in Spain it didn't really feel like we had each other either. And that's sad."
Visibly emotional and struggling to convey his feelings, David says: "When I first moved to Spain, erm, it was difficult because I… I'd been part of a club and a family for my whole career, from the age of 15 to I was 27 years old. I get sold overnight, the next minute I am in a city, I don't speak the language, more importantly I didn't have my family.
"Every time we woke up, we felt there was something else. And you know we felt, I think we both felt at the time that we were not losing each other but drowning."
"How do you think you guys survived that?" Stevens asks David.
"I don't know," David says, looking tearful. "I don't know how we got through it in all honesty. Victoria's everything to me. To see her hurt was incredibly difficult. But we're fighters. And at that time we needed to fight for each other, we needed to fight for our family. And what we had was worth fighting for. But ultimately, it's our private life.
"There were some days I would wake up and think 'how am I gonna go to work, how am I gonna walk onto that training pitch, how am I gonna look as though nothing's wrong?' I felt physically sick every day when I opened my eyes, 'How am I gonna do this?'"
In 2004, David was granted compassionate leave by Real Madrid in order to join Victoria and their children in Switzerland, where his family was on a skiing holiday, after Loos' claims were made public.
At the time, Loos was said to have made as much as £1m through interviews and TV roles related to her Beckham story, including a notorious appearance on Channel 5's The Farm.
She also appeared on UK shows such as Celebrity Love Island, Extreme Celebrity Detox and The X Factor: Battle of the Stars.
Loos has since relocated to Norway after meeting her now-husband, doctor Sven Christjar Skaiaa, on the reality show 71 Degrees North. They have two young sons together, Magnus and Liam.
"I am so happy. I have no regrets," Loos told MailOnline in 2016.
"People said I was mad, who was this guy?" she said of her husband. "I hardly knew him, what on earth was I doing? But look at everything I have now."
She added: "I am so happy with my life now. Many people are so afraid of change. Change is good, change is how you learn, people should just f***ing go for it. I like the way my life has taken me.
"If I hadn't been famous, I would not have been invited on the TV show where I met my husband Sven and had my lovely boys. I would not have had the life I have now."
Seemingly referring to the Beckham scandal, she continued: "I took a lot of wrong decisions, and got talked in to a lot of things. Of course if I could go back in time I might change some things, but wouldn't everyone? I have no regrets."
All four episodes of Beckham are available to watch on Netflix now. Read The Independent's review here.